Available Business Buildings & Sites
This historic building has been remodeled and is home to two other businesses. Available to rent is a space of 1,200 square feet that can be finished to suit the new tenant. To view or for additional information, contact Nathan Jacobs at 785-282-4014.
US HWY 36 COMMERCIAL PROPERTY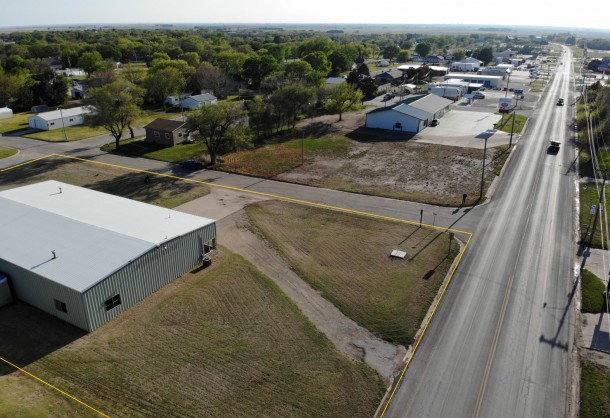 Prime location along US Highway 36 in north central Kansas.
This is a large lot with possibilities for expansion. The lot size is nearly one acre.
This 6,200+/- sq ft commercial facility is a massive building with oversize overhead garage doors, insulated and features retail space, office space and garage/shop spaces.
Multiple ingress / egress points including highway access plus ample room for truck parking make this an ideal storage facility which is centrally located between several Midwestern metro areas.
– High-traffic location along US Highway 36 / Hwy 281
– KDOT Traffic Counts: 1,790 / day (2019)
– Zoned Commercial & Industrial
– 6,200 +/- Sq Ft Building
– Lot: 127′ x 270′
– Forced Air Furnace (office & retail areas)
– (2) Overhead Gas Heaters (shop & garage areas)
– Overhead Garage Door (12 ft wide | 14 ft tall)
CENTRALLY BETWEEN SEVERAL MAJOR METRO AREAS
– Lincoln, NE (3 hours)
– Wichita, KS (3 hours)
– Kansas City (4.5 hours)
– Denver, CO (5 hours)
TURN-KEY GARAGE & AUTOMOTIVE SHOP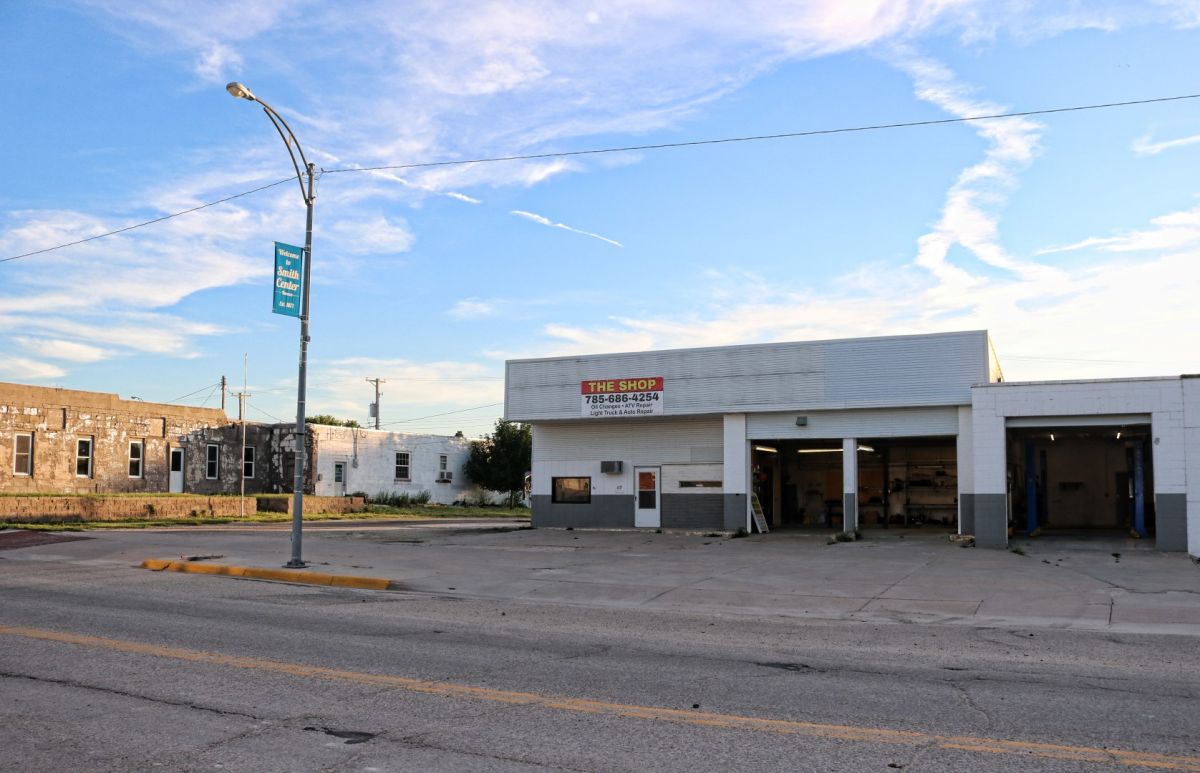 This is a Turn-key commercial real estate and shop equipment offering located in downtown Smith Center, KS.
Waiting room area has central furnace and window A/C. Shop and garage areas have overhead gas heaters.
Everything you need to get started as running your own automotive or small engine repair in one transaction. From the newly furnished office and waiting room areas, the updated bathroom facility and not to mention the equipment necessary to start earning right out of the gates.
– Office Area
– Waiting Room Area (furnished)
– Updated Bathroom with new vanity and new stool
– Lot Size: 14,835 sq ft
– Building: 2,100 sq ft
– Built: 1955
– (2) Side-by-side Bays (10′ x 9′ overhead doors) – approximately 736 sq ft
– (1) Double-length Bay – approximately 800 sq ft
– (2) NEW Vehicle Lifts
– Industrial Welder
– Whole-Shop Filtered Air Compressor System
– Three-Phase Power Electric Service
– Point-of-Sale & Inventory Management System
– Main St / Hwy 281 Frontage
– Spacious Lot with double alley access
Nick Rhodes, broker / owner / REALTOR®
Wildlife Properties Land Company, LLC
17022 K Road
Smith Center, KS 66967
Phone: (785) 695-2999 (office)
Phone: (785) 620-7122 (mobile)
Email: nick@mywildlifeproperty.com
Nebel Manufacturing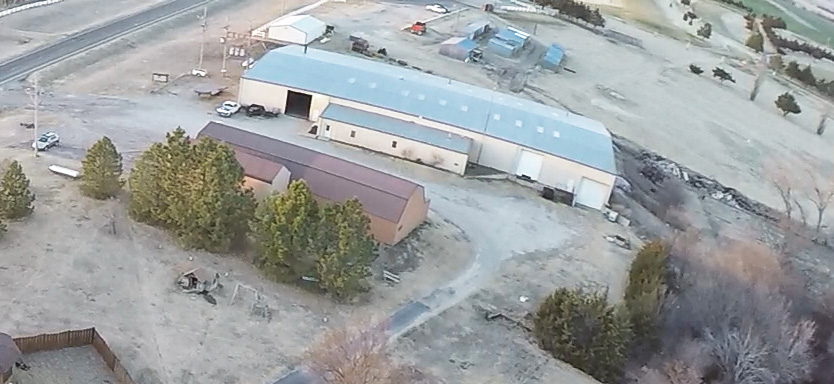 Facility Features
Former manufacturing / fabrication / powdering coating facility located near the intersection of US Highway 281 and US Highway 36 (shortest route between Denver, CO and Indianapolis, IN). Located near the Geographical Center of the United States in Smith County, KS.
Property Overview
Total SF: 26,000
Number of Stories: 1
Zoning: Industrial-Light
Year Built: 1999
Former Use: Powder Coating / Manufacturing & Fabrication
Within City Limits: No
Located in Incentive Zone:Yes
Nick Rhodes, broker / owner / REALTOR®
Wildlife Properties Land Company, LLC
17022 K Road
Smith Center, KS 66967
Phone: (785) 695-2999 (office)
Phone: (785) 620-7122 (mobile)
Email: nick@mywildlifeproperty.com
US Center Apartments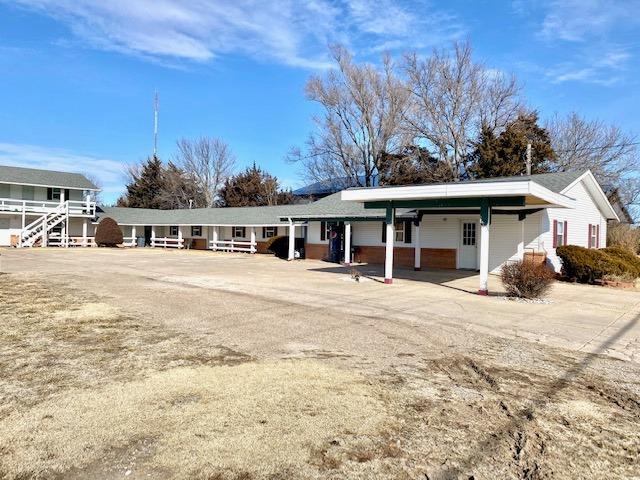 Half-apartment, half-motel. This hybrid hospitality concept gives an investor the best of both worlds for multiple income producing streams. The owner of this facility has done a masterful job of re-engineering the property in order to feature both apartments and motel rooms.
The 18-unit U.S. Center Long Term Stay Motel and Apartments offers 8 apartments (2-two-bedroom apts. 6-one-bedroom apts.) and 10 single motel rooms (One-1 bed and Nine-Double beds). The property is being offered at a very attractive price per room unit ($8,305). The current owner has completely refurbished this facility inside and outside. Each apartment is fully furnished with nice hardwood furniture and full kitchens. Comfort and space are assured thanks to the separate bedroom and living area throughout the apartments.
Property Features:
Located on U.S. Highway 36, Recently Refurbished Inside and Out, Furnished Smoke Free Rooms, New Roof 2018, New Siding 2014, New Windows 2015, New Doors 2015, Late Model Kitchen Appliances, Public Laundry Facility, Private Motel Laundry Facility, Mechanical Room, Large Parking Lot, Large Backyard. Located Near the Hospital.
Contact Shawn Phelps
205 S. Main Street Smith Center, KS 66967
Antique Mall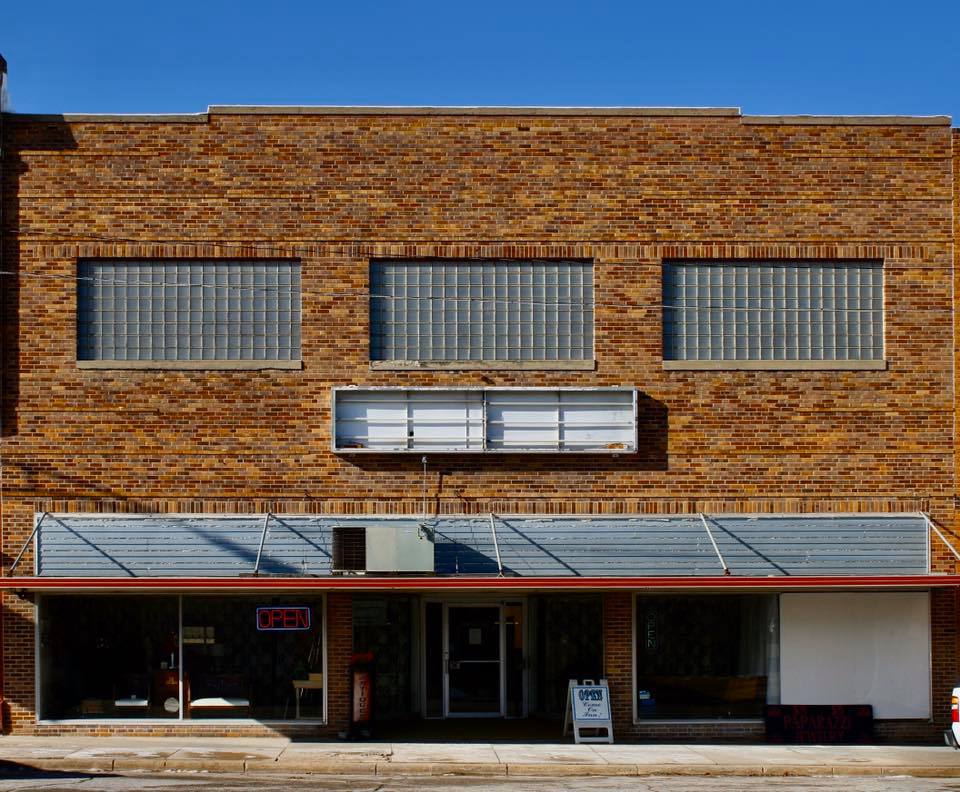 Anitque Mall @ 225 S. Main St.
Smith Center, Kansas
NEW PRICE REDUCTION $325,000
Contact Pamela @785-282-0428
ANTIQUE MALL with FIXTURES, DISPLAYS & INVENTORY
This beautiful prosperous 12,000 Sq Ft Antique Mall is located at 225 S Main Street, Smith Center, Kansas.
Smith Center, Kansas is on US HWY 36, and this business is in the main business district, and receives a good traffic flow of customers and vendors.
The Antique Mall has a very generous 12,000 Sq Ft of workable space for this large business venture. The main floor is 80x58 and surrounded on three sides with a mezzanine. The main floor is also surrounded by booths, and the open floor space is filled with display units. The mezzanine is surrounded with portable vendors' booths. The mezzanine is 8 feet deep on the long sides and 12 feet deep on the end. The restroom is on the mezzanine level.
The room has Central AC and a 2018 Modine forced air heat system.
The second room is 44x36 with. Center division wall. This room is also filled with merchandise . There is a work sink.
The third main floor room is 36x26 and is being used for storage, but could be used for more merchandise display.
The fourth room is 25x19 and used as a work room and for storage.
The top floor can be reached by stairs, but there is also an original elevator from the basement to the third floor. At the top of the stairs is a 20x13 room , which could be converted into an office. The main area of the third floor is 78x45 and divided into two areas. This floor also has a mezzanine. This floor is not finished and is used for storage.
The business is comprised of vendors who rent space by the square foot, consigners who pay a percentage of sales, and the owner's personal merchandise.
The sale includes 2,000 crates of stored inventory plus thousands of items of displayed inventory and display units.
New Roof: 2018
New Furnace: 2018
All New Plumbing: 2019
Water Heater: 2019
Work Sink: 2019
New Bathroom: 2019
Building Wired: 1998
Partial New Lighting: 2018
Elevator Motor Switch: 2018
Square System: 2017
Property Taxes: $1,702
LISTING PRICE: $349,000